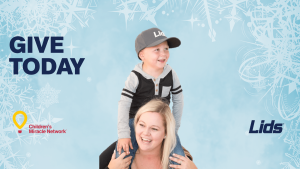 From November 12 to December 31, you can help millions of kids across Canada heal and families get the care they need this holiday season, including families like Khloe and Kain.
This dynamic mother and son duo have been in and out of hospital since the day Kain was born. Despite not having tubes and IVs running through him on a day-to-day basis, Kain is battling every day of his life to stay alive. Sometimes battles leave scars, and Kain has had his fair share of challenges in his short six years on this planet.
Why does Kain's story matter?
Kain, a 6-year old spitfire of energy and light, has spent many of his days and milestone moments in his life hooked up to monitors at SickKids hospital in Toronto, ON. Every day, over 5,000 children are treated at Canadian Children's Miracle Network member hospitals like SickKids. If you don't know Kain, odds are you know someone who has been treated at a children's hospital, or you've been a patient yourself.
For the 3rd year in a row, Lids Canada has once again partnered with Children's Miracle Network to launch an in-store campaign, raising funds for children's hospitals and giving back to families and customers that are battling their own health challenges. 2020 has been challenging, the impact on children's health due to COVID-19 in Canada is profound. The mental health and physical activity of kids has been affected, and even wait times to vital surgery has increased.
Get to know Kain through the eyes of his mother, Khloe, and their inspirational story here.
Kain was born with multiple congenital heart defects.  If left untreated without surgical intervention, he would have passed away hours after entering the world. Kain was born with Hypoplastic Right Heart Syndrome, Tricuspud Artresia, Transposition of the Great Arteries, Atrial Septal Defect, Ventricle Septal Defect, and Interrupted Aortic Arch. Immediately following Kain's birth, he was transported to SickKids hospital.
Within the first moments of his life, he was hooked up to heart monitors, oxygen saturation monitors and IV medications to keep him alive until surgery was booked. It was within the first 24 hours of his life that I was told his first open heart surgery would happen the next day, leaving very little time to emotionally prepare for it. At 36 hours old, I handed my 7lb 6oz son over to a nurse in hopes that he would return to me after the surgery was complete. After a 10 week stay and many complications in the hospital, Kain had gained enough strength to be allowed to go home. Once again, at 5.5 months old, Kain was ready to go for his second open heart surgery. And again at 3 years old Kain went for his 3rd open heart surgery.
What is important for people to remember about congenital heart defects and these surgeries is that it does not 'cure or fix' him. They are not able to be cured. These surgeries are palliative procedures for the surgical management of his heart. His heart will be modified to work to the best of its ability and allow us as much time with him as possible.
One thing about Kain is that he remains strong through all of it – every poke, every test, and every surgery. He usually has a smile on his face and doesn't even cry for bloodwork anymore. But one thing he always has is a sparkle in his eye, that is what keeps me going.
Sincerely,
Khloe
Kain's Mother
This holiday season, you have the chance to give the gift of health so families like Kain and Khloe can enjoy a warm holiday spent together. Visit a Lids Canada store today to donate. For a store directory, click here.